[PHF Home]
[Class Calendar]
Note:
Prospect Hill Forge is physically closed for the duration of the outbreak.
We are moving toward doing online classes.
If you have your own rig, forge-on!
If not, seriously consider getting some modeling clay to practice with.
... but no cheating, no fingers!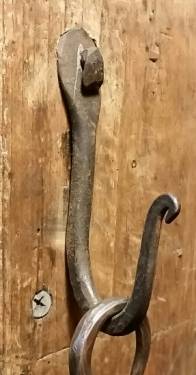 Demonstration Online Blacksmithing Class
To show that it CAN be done

We're doing this class for the purpose of recording it to demonstrate to the world that the tools and techniques we used in the shakedown classes can and do work for teaching blacksmithing online with Zoom. Well, and to pass on a bit of knowledge. Like ya do.

The topic/project will be a simple J-hook that can be attached to a vertical surface for holding keys, a leash, a mug, a jacket...

Skills involved: Flattening, punching holes, drawing to a taper, curling with the hammer, bending with the 'U' or over the horn.

We will be using Zoom as the group-meeting app.
Clicking the link above will tell you what you need to make it go on your device.
The Zoom meeting URL will be emailed out at least an hour before class and the meeting will be started 15 minutes before official class start so we can check the tech and maybe visit each other's smithies.
People who are auditing will be asked to turn off their cameras and microphones until the end of class (emergencies excepted).
The student must have: (please read this carefully)
Their own blacksmithing set up:

A forge, lit and running by the beginning of class, type is unimportant (being able to back-down a gas forge while we're talking would likely be good)
An anvil-like object with a relatively sharp, but not sharp sharp 90 degree edge.
The ability to hold the hot work still on the anvil while punching, an assistant, a chain hold-down, a carpenter's-style holdfast, or the ability to hold the work between your legs will do.
A hammer, 1.5 to 2.5 pound, no larger.
A smaller hammer (~8oz)
Tongs to hold the stock straight at least, crosswise can be helpful.
A flat-ended punch about 3/16" in diameter.
A bending 'U' would be useful but not vital
Eye and ear protection
Ear buds or somesuch that fit under your ear protection so that you can hear me while you're hammering.

A device that will run Zoom, has a camera, a microphone, and a decent 'net connection while in your work area.
The ability to move that device around the work space so I can watch you work from helpful angles. A photographer's tripod and some way to hold your device on it would be marvelous
If you're willing to give a brief tour of your set-up before class, that'd be cool.
Materials
At least 6" of 1/4" to 3/8" round steel, preferably mild. Thicker is better. 18" or longer is easier to work with.


About 2 hours dates&times

Instructor: Carl West
Fee: No charge
Maximum 4 students

Please wear proper clothing for visiting or working in the forge: closed toe shoes (preferably leather, preferably high-topped. Sneakers are sufficient.), natural fiber clothing, long pants that cover the tops of the shoes. Click here for more safety information.


Dates and Times:


This class is either:
- not upcoming on our schedule,
- or we've fallen behind in our clerical duties and not entered it in the database.
If you found it on our calendar page, we are planning to offer it on that date.

If you're interested in taking Demonstration Online Blacksmithing Class and it's not on the calendar, please tell us using our Notification-List Page.