[PHF Home]
[Class Calendar]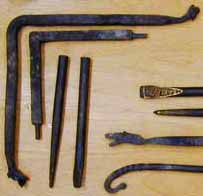 Rudiments of Blacksmithing II


This class builds on the skills developed in Rudiments of Blacksmithing I. You'll refine your command of forge-fire management, improve other existing skills, especially forging, and be guided through projects that will expand your repertoire of basic blacksmithing techniques by introducing:
upsetting
hot filing
hardening
tempering
sinking
grinding
forging high carbon steel
adjusting tools
forge-welding
sharp angle bending

Typical projects in Rudiments II include animorphic heads, spoons, center-punches, chisels, and brackets. As always there will be time after the hammers are down for questions and further discussion. Taking the classes Rudiments I, Rudiments II, and Rudiments III is the equivalent of taking The Basics of Blacksmithing class.

Gift Certificates for Rudiments of Blacksmithing II are available.

12 hours total in either 4 3-hour sessions or 6 2-hour sessions. dates&times

Instructor: Carl West
Fee: $390; a discount applies if signing up for three sequential Rudiments classes at once.
Class size is limited to 4 students (one per forge).

Prerequisite:

Full Covid vaccination required. Bring your card.
Students should have taken Rudiments of Blacksmithing I.
Please wear proper clothing for visiting or working in the forge:
closed toe shoes (preferably leather, preferably high-topped. Sneakers are sufficient, sandals, crocs, pumps, mules... are not), natural fiber clothing, long pants that cover the tops of the shoes.
Click here for more safety information.

Dates and Times:
If none of the dates below work for you (or are already full), we suggest you
Add yourself to the Notification List for this class.
(The notification list gets emailed soon after classes are put on the schedule.)
This class is either:
- not upcoming on our schedule,
- or we've fallen behind in our clerical duties and not entered it in the database.
If you found it on our calendar page, we are planning to offer it on that date.
If you're interested in taking Rudiments of Blacksmithing II and it's not on the calendar, please tell us using our Notification-List Page.