Striker Team


It's a joyous thing to watch the metal move under multiple hammers. More joyous still to be one of the hammerers. There have been power hammers since... well way back and they are certainly labor saving devices, but for flexibility, and adaptability-on-the-fly nothing beats a team of strikers that know what they're doing.

We'll be learning to strike and to master, with single strikers and with teams of strikers. Striking directly and with set-tools. This is not so much a class in the usual sense as it is an ongoing practice session. There will be training for new people as they arrive, and practice for the more experienced. The projects we work on will be for the smithy or for sale by the smithy. Accordingly, the hourly rate for Striker team practice is lower than the usual Open Smithy rate.

Our Striker Team is available for both our own and our students' use, and performs at Fairs, Festivals, Exhibitions, and other opportunities for blacksmithing demonstrations, showing what it was like to do heavy forging in the old days. To book the Striker Team for a special project, drop us an email.
To come see the Striker Team in action, check out our calendar for Fairs and Festivals at which we will be performing.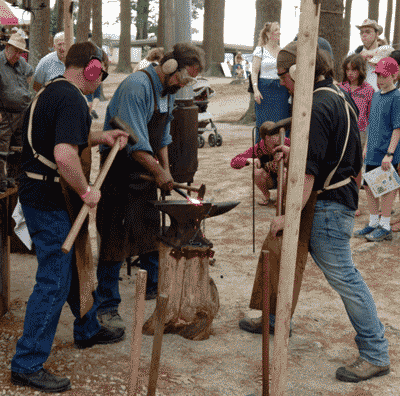 Gift Certificates for Striker Team are available.
2 Hours (or so) dates&times
Instructor: Carl West
Fee: $35 per student
No size limit, If we have to light additional forges, we will.
Prerequisite:
Required: A rapid Covid test that day, ideally just before class.
Yes, really, we're still asking for it in the summer of '23.
Please wear proper clothing for visiting or working in the forge:
closed toe shoes (preferably leather, preferably high-topped. Sneakers are sufficient, sandals, crocs, pumps, mules... are not), natural fiber clothing, long pants that cover the tops of the shoes.
Click here for more safety information.

Dates and Times:
If none of the dates below work for you (or are already full), we suggest you
Add yourself to the Notification List for this class.
(The notification list gets emailed soon after classes are put on the schedule.)
This class is either:
- not upcoming on our schedule,
- or we've fallen behind in our clerical duties and not entered it in the database.
If you found it on our calendar page, we are planning to offer it on that date.
If you're interested in taking Striker Team and it's not on the calendar, please tell us using our Notification-List Page.