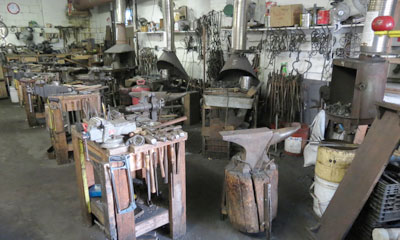 Prospect Hill Forge is a teaching smithy
located in Waltham, Massachusetts.

We offer:
Classes in Traditional Blacksmithing

Focused on technique, theory, efficiency, and æsthetics
Scheduled on afternoons, weeknights, and weekends
Tailored to fit students' needs
Student:Teacher ratio of 8:1 or better (4:1 in advanced classes)

Introductory classes:
Click here to find out what to do if you liked the intro class
Gift Certificates for classes
Forge rental for smiths who need a place to work
Close proximity to Boston in Waltham, Mass.
Repairs and occasional commissions
---
To register for a class:
Have a look at the column to the right, or go to the calendar.
Click on a class name (or picture) and another window will open.
Scroll down until you find a date and time you like,
Read whatever instructions there might be directly below the "Click Here..." link,
Click the "Click Here..." link,
This will take you to the registration system of whoever "owns" that class. It might be us, it might be any of several Adult Ed organizations.
Follow the instructions when you get there.
Note: if the class is registered through one of our Adult Ed partners, They are the ones that know if it is full, we don't find out until the last day or so.


Regardless of who's doing the registration,
ALL CLASSES ARE TAUGHT AT OUR WALTHAM LOCATION.
(We don't move this stuff.)
---
Feel free to visit us on Facebook. You don't have to log in to Facebook to see what we have to show, but if you are logged in, feel free to 'Like' us while you're there.
---
RSS feeds for classes and events
To help you find out when the class you've been waiting for gets scheduled on our calendar, we've created RSS feeds for each class, and one for all our events and activites (classes, open houses, demos...).
(What is RSS, why do I care, and how do I use it?)

Click here to subscribe
to the RSS feed for



All PHF Events

(Our RSS feeds update
a few minutes after midnight
every night.)

These are the next few classes for beginners,
and events of interest.
Click the class name for more information.
Or view our Full Calendar to see everything we have scheduled.
---
A Taste of Blacksmithing
Our single-session introductory class - $65

September 30 (2018)
Sunday 2:00pm - 5:00pm ***Afternoon***

October 1 (2018)
Monday 6:30pm - 9:30pm

October 3 (2018)
Wednesday 6:30pm - 9:30pm

... and 6 more are on the calendar.

---
Fitchburg Forge-In
This is a chance to watch a number of smiths at many levels of skill working har... -

September 29 (2018)
Saturday 10am - 5pm

---
Open Smithy
A time to do your own things - $25 /hr, $225 /10hr package

September 26 (2018)
Wednesday 1:00pm - 4:00pm ***Afternoon***

September 27 (2018)
Thursday 6:30pm - 9:30pm

September 28 (2018)
Friday 6:30pm - 9:30pm

... and 9 more are on the calendar.

A video by and of Mark Oribello, one of our advanced students and Open Smithy monitors: